Promote Your Marine Tourism Assets
Marine tourism is a vital part of your community's and region's economy. Let us showcase all that you have to offer to boaters. AHOY BC will work with you to design a mini-website, housed on ahoybc.com, that caters to the needs and travel preferences of the boating tourist.
High Exposure, Excellent Value
AHOY BC is the place where boaters go to plan their vacations. The visual appeal and easy-to-use trip planning tools will lure boaters to our website and to your community.
This product is designed for communities that want to market directly and effectively to marine tourists. Your community will be prominently listed under Chart Your Course, one of the main navigational links appearing on every page. Your community icon on our inter-active map will stand out. When a visitor clicks on your icon, your mini-website will open.
Your community will stand out in comparison to communities that have basic and enhanced profiles. Let us showcase your community to boaters.
Here is What You Get
The showcase profile window ("Home" state shown below) has seven tabs that provide access to seven separate showcase pages. These tabs give access to the following pages:
Home page

up to six rotating banner photos
logo
your tourism website and social media links (on every page)
up to 800 word community tourism profile
latest news box

On the Waterfront page: interactive Google map with filters for up to fifteen features showing marinas, parks, hospitaliers and places of interest accessible by boat
Come Ashore page: short descriptions of things to do that are not within walking distance of a dock
News and Events page: you may post news and events to your Showcase year-round
Marine Tourism Directory page: businesses in your community that are listed in our main directory will be listed on this page in your Showcase
Links page connects to your regional vacation guides
Photo gallery page: up to 24 images
In addition, Showcase Communities receive:
Representation at two consumer shows annually: we will help you design print material for distribution
Active Social Media Engagement: we will regularly feature your community on our social media pages and in our newsletter
Travel Media Preference: Showcase Communities will be featured in our travel media kit and given first options for inclusion in campaigns
Cost: $3000 to build, $2000 annually to maintain
Community Showcase Home Page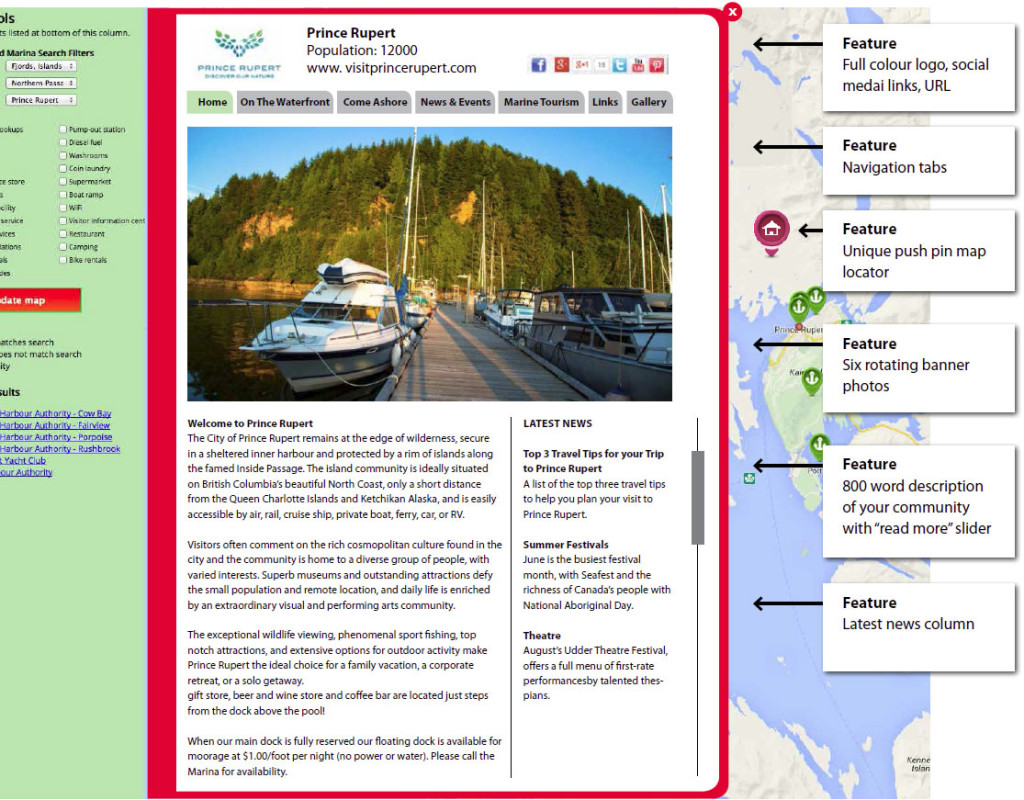 Main image at top of page: Kayaking on the Puntledge River, Comox Valley